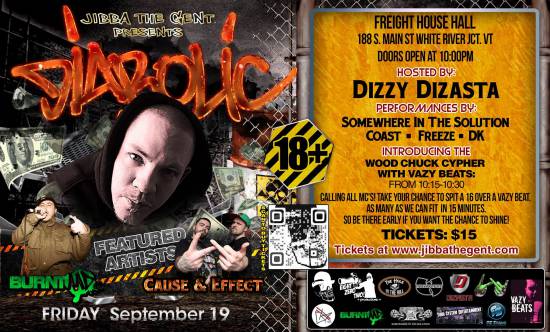 For Jibba the Gent's latest magic trick, he's bringing Burnt MD back from Colorado for his first Vermont show in years.
Headlining the bill is Diabolic, one of the most technically gifted rappers in recent memory.
Would you like to get in for free?
Sure you would
, and Vermont Hip Hop actually has four tickets up for grabs. Rules are dumb simple: send an email to powerweirdo@gmail.com, put "BURNT MD SHOW" in the title, and let us know where in the 802 (
or 603 or 518 or 413 or 207 or...
) you're from, and we'll do a blind drawing on Thursday night, audited by none other than Seven Daysie
"Best Recording Studio/Engineer"
award winner Walter Westinghouse.
Deadline for entry is Thursday, September 18th @ 4:20 pm EST.