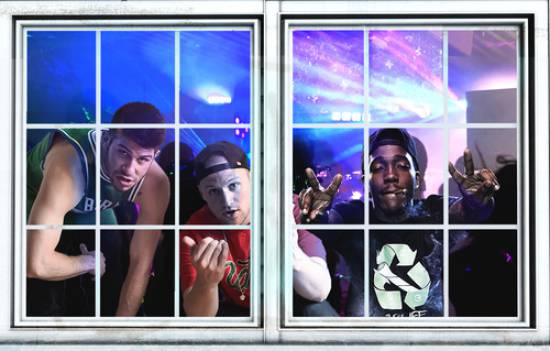 I recently stated that Higher Ground had "settled into a groove of only booking college-friendly blog rap." Either I spoke too soon, or their talent buyer decided to prove me wrong, because the Fall 2014 calendar has diversified quite a bit. What follows is a roundup of the shows we know about - a preview of the good nights to come.
October 4th:
Things get started next month with a "nerdcore" house party, consisting of
MC Chris and MC Lars
, with Maine's favorite stoner Spose rounding out the bill. While the flavors served up here are not for everyone, MC Chris and Spose both put on a hell of an entertaining show. (No dis intended to MC Lars, I've just never seen him onstage.)
October 18th:
Los Angles legend
Flying Lotus
will be coming through the Queen City to celebrate his new album,
You're Dead
. He will be touring with a live band which includes Erykah Badu's bassist, Thundercat. This is definitely going to be one of the more memorable shows of the entire season.
October 20th:
Need more LA art-rap in your life? Good news:
Busdriver
is headlining Higher Ground. He will be bringing along Hellfyre Club amigo Milo -- who has previously been at Jenke Arts -- and a strange act called "clipping." who are clearly on some left field shit.
October 24th:
The frat-rap shit-show known as
Aer
will be selling out the venue, sharing the headline with Dizzy Wright, who is a rapper that raps about smoking weed, only not as well as other rappers who rap about the same thing. This show is, obviously, the reason I'd given up on Higher Ground for the duration of the UVM semester. It's rap for people who don't like rap, and none of them are reading this.
October 26th:
A rare evening where hip hop takes over the whole building. In the showcase lounge, you've got Vancouver-based indie phenom
SonReal
bringing his earnest, pop-inflected confessionals. In the ballroom, you've got a very different scene, with the hilariously awesome
Ty Dollar Sign
making a most unexpected journey to the Green Mountain State. His opening act will be something called Lil' Bibby, whose bio copy seriously claims he is a "more lyrical Chief Keef."
November 1st:
Rhymesayers returns to the 802.
Brother Ali
-- one of the best rappers alive by any standard -- will be headlining in the showcase lounge with politically motivated rapper Bambu and DJ Last Word. Brother Ali always delivers the goods. This will be an exceptional evening.
November 9th:
Slam poet / rap crossover -- and unlikely major label artist --
Watsky
will be returning to Higher Ground. He's bringing Hellfyre Club new jack Anderson Paak, as well as some dude named Kyle. Really: just "Kyle." This gig will be in the Ballroom, which indicates Watsky has been doing damn well here on previous trips East.
November 12th:
Canadian hip hop / R&B producer
Ryan Hemsworth
will be in the showcase lounge, which is pretty remarkable. It's unclear whether he's got a real "show" lined up or you'll be paying to watch dude play beats off his laptop and occasionally do things with his hands. I'll keep you posted.
November 30th:
Flatbush Zombies
will be returning to Higher Ground -- in the ballroom this time, which is curious considering how few folks were at their last show -- and bringing along The Underachievers, which is a group of much stronger rappers. The Zombies are an energetic, anarchic stage show and this promises to be a damn good time.