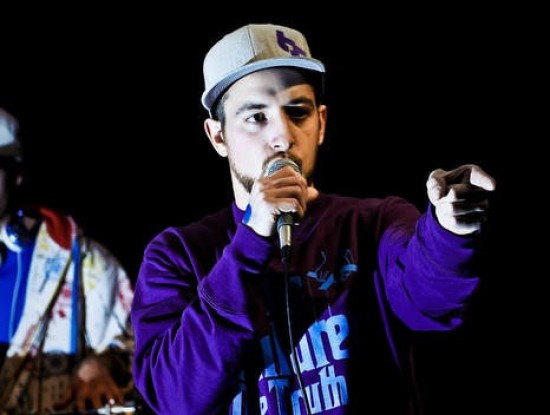 Thirtyseven: Is Present Rhymes on hiatus in 2013?
Mertz:
For those that don't know,
Present Rhymes
is the group I started making music with. My 3 best friends & I began experimenting in the worlds of music production & writing lyrics back in 2002. One of our original members left the group before we even released our first project in 2011. Since our debut album,
Livin' The Mission
, the group has been less productive than I had hoped.
Now, more than ever, I am completely focused on making music. I never thought I would be a solo artist, I always had the group mentality from the very beginning. But, over the years, it's become clear to me that if I really want to turn music making into my life's work, I have to make that commitment by myself. I can't let anyone else's actions dictate my success. This realization has been a really hard thing for me to deal with. Ultimately though, I just want to make music, so that's what I'm doing.
The truth is, I don't know what the deal with Present Rhymes is. We didn't break up & I certainly never said I was leaving the group to go solo. We just got to a point where we were all living in the same house & spending a lot of time not working on music together. We have a lot of really good songs written that our fans haven't ever heard, but as a group, we lack the motivation to really put in the effort it takes to make those songs great.
Now, my mind is focused on building a fan base as a solo artist.
Thirtyseven: How has your approach to songwriting and production changed since your early releases like the Rise Above It EP?
Mertz:
For my new album,
The Good in The Bad
, I gravitated back towards original production & away from sampling. I produced 5 out of the 10 songs on the album & only 1 of my beats is sample based. Production-wise, for this project I put a major focus on the drums & the overall dynamics of the instrumentals. In the past, I would write most of my lyrics before the beat was finished. Then, I would end up copying large sections of the beat & pasting them to make the beat longer, & I think this approach led me to making songs that felt very repetitive.
On my new project, I tried to make my instrumentals stand on their own before I wrote lyrics to them. I also made a conscious effort to stay away from the all too easy verse-chorus-verse-chorus-verse-chorus classic rap song structure. I think this approach enables me to keep the listener's attention more because they're presented with something different than they might be expecting. I've also focused a lot of my energy on creating more realistic sounding, harder hitting drums.
On the songwriting side of things, I utilized the talents of other producers for the first time on this project.
Nastee
,
SXMPLELIFE
&
SkySplitterInk
contributed production to the album, all of whom I met while living in BVT. Using other people's beats has let me focus more on my lyrics. I did a lot more storytelling than I have in the past. One criticism that has always stuck with me was from my first release, when Dan Bolles said that I am much more effective when I "show" than when I "tell". I like the approach of storytelling because I think it's fun to make a point without coming right out & saying it. To me, it feels like the storytelling aspect to lyricism has been scarce as of late, & by telling more stories, I'm able to keep things more interesting for the listener while still saying something of substance.
Thirtyseven: What was your introduction to Vermont's hip hop scene?
Mertz:
The first CD that I had that was local Hip-Hop was Burnt MD's Burnt Underground Radio. It was a compilation that featured a lot of local talent on it, introducing me to
The Loyalists
,
Wombaticus Rex
,
Sin
,
The Aztext
&
Fattie B
. I was young at the time & I remember it blew my mind to find out that there were artists living in the same city as me who were making this music. From there I became a huge fan of The Loyalists in particular, & began paying more attention to the local scene.
As a performer, it all started on that 3-inch elevated platform in the corner at
Manhattan's Pizza
. I started performing at Andy Lugo's open mic in 2009 when I put out my first project. That's where I really found out what it was like to perform my music for people. Lugo help me immensely by coaching me & giving me tips, but mostly, by believing in me.
From there, I became tight with a few other local artists who performed at the open mics & we began putting on shows of our own. The crew that I really came up in the local scene with was Aleck Woog, Somewhere In The Solution, Habit, B Honest, The Lynguistic Civilians & a few others. After that I got the rest of Present Rhymes into doing live performances & we started doing a lot of shows with acts like Funkwagon, A-Dog & Nastee, Burnt MD & opening up for some people I never imagined.
Thirtyseven: How was your experience moving several states away and starting from scratch? Has the RI scene been receptive to your sound?
Mertz:
The decision to move away from BVT was made because we were working on the Present Rhymes album, but it was too hard to make a collective effort without being together. When we first moved to Providence, we spent the majority of our time in the studio finishing the album, but we were still booking shows in VT & making trips up to perform.
Our group dynamic was on point because of how much we were rehearsing together, & we were getting really good responses when we played live. We didn't really put an emphasis on playing live in RI tho, because after we finished up our album, we went right back to work in the studio writing new songs.
I will say, of the shows that we have done in RI, we definitely bring a different sound to the table. Providence is a bigger city than BVT (duh) & so with that comes a higher regard for mainstream culture & music. A lot of the local artists I have seen in RI seem to strive for more of a mainstream sound, which isn't really my style. I like to make songs that are based in my reality & express the way I think & feel about different aspects of life.
Most of the time, when I play live in RI, I get a pretty good response. There are fans here that are receptive to my style, but I haven't put enough emphasis on playing live here to establish a local fan base.
I think the best move for someone like me is to link up with the local artists in the area who are like-minded. There are a lot of artists out here who are making very good music & who have very supportive local fans. I think a lot of them would be well received by VT Hip-Hop fans. Ultimately, I feel like you can find fans everywhere who will appreciate your music, it's just about finding them.
You can catch Mertz at Ri-Ra's on November 16th with the Lynguistic Civilians for their "Tossin' Turkeys Tour" -- which is awesome.