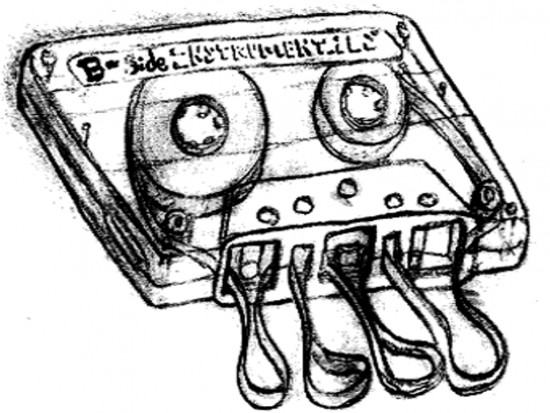 Thirtyseven: What was your introduction to Vermont's hip hop scene?
ILLu:
Dave Grippo was my middle school music teacher and seeing his funk band perform at our assemblies with a DJ and Rapper was the first time I realized hip hop was made in Vermont and around Burlington.
Thirtyseven: What is your production process these days?
ILLu:
My production process starts when I dig through the crates to find a sample. I'm a big record collector. I record the sample into my MPC, chop it up and rearrange it. Find some drums and do the same to them. After the beat is finished I mix it down into
Reaper
, add some effects and some finishing touches. At that point I usually consider the beat done and move on to the next.
Thirtyseven: How did you link up with Jenke Arts and how has your experience been so far?
ILLu:
I linked up with Jenke by chance really. I brought my MPC to Radio Bean's open mic and performed a (very poorly written) song and scratched some vocal samples over a couple of my beats.
Mavstar
just happened to be there that night and before I got off the stage he asked if he could freestyle and I said absolutely. Word must've got to Tommy Alexander at Jenke and he asked if I could supply him with some beats for the next Set Up City record and though Tommy I met MC Rajnii, J Kaine, Humble, and Knowble.
Thirtyseven: Do you feel like its harder for producers to make a name in a small scene like Burlington than it would be for rappers?
ILLu:
I don't think it's any easier for emcees in Burlington because the population is so small it's hard to build a fan base. But producers have to rely on word of mouth more often then not because they don't have the same avenues to express their art form. Where a rapper can go to an open mic and showcase their skills, a producer doesn't really have that. Especially if they don't DJ.
Thirtyseven: What are your favorite venues in Vermont?
ILLu:
Manhattan's Pizza
is one of my favorite local venues because it is so diverse in its music, especially their openness towards hip hop with the help of their open mic's and
Andy Lugo
.
Thirtyseven: Aside from adding a couple hundred thousand young people with disposable income, is there anything you would like to see change in the BTV hip hop scene?
ILLu:
I would like to see a Burlington version of the Rock The Bells shows where every one comes together to put on a show, have fun, and showcase their skills.
Thirtyseven: What are your goals for 2014?
ILLu:
Goals for 2014 include seeing the beats I've given to local rappers released for everyone to hear. Also would like to link up with a rapper to release a project similar to what the Alchemist has been doing with Action Bronson, Prodigy and Boldy James.