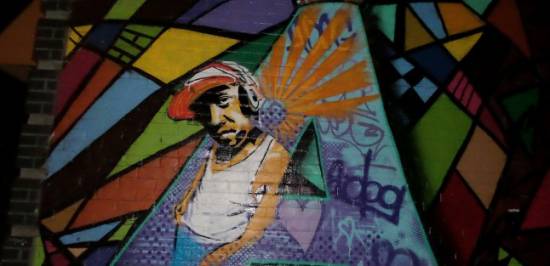 Anyone working in hip hop is trying to build something bigger than themselves. Few of us accomplish that. It's a rare enough achievement to be studied closely, contemplated carefully -- and most of all,
celebrated
.
On August 30th of this year, in beautiful Burlington, Vermont, an entire city will be celebrating the life and work of Andy Williams, better known to the wider world as DJ A-Dog. It's not simply that A-Dog was so successful, although it's amazing how much he managed to accomplish. Born in New Jersey, landed in the backwoods of a small state at age 10, A-Dog stayed ahead of many curves. He was touring off brand sponsorships, using the turntable as instrument with a live funk band, and working the internet to build a personal brand long before any of that was normal.
Yet many DJ's have attained even greater fame, and few of them are remembered as fondly as A-Dog. The difference is in the lives he touched, the people he inspired, and the artists he connected along the way. Where others were quick to hate, A-Dog would encourage you to improve -- whether it was on a skateboard, the Technics, or the microphone. While most local celebrities become gatekeepers, A-Dog went out of his way to build bigger platforms and help anyone he could. If he ever got frustrated, he never let it show.
Since the world lost A-Dog late last year, the extent of his legacy has become clear. His tireless work ethic changed lives, spawned subcultures and started careers from coast to coast. His greatest impact, however, was in his adopted hometown of Burlington, which is why Mayor Miro Weinberger was moved to declare August 30th the first annual A-Dog Day, a celebration that will fill the city with live music, skate jams, and dozens of community workshops. The sheer size of the response is a testament to what a uniquely powerful source of light A-Dog really was.
We have to give Andy the last word. Back in 2003, after a whirlwind of national tours, successful mixtapes and personal growth, he was featured in the local paper, Seven Days. He was grounded, humble, and above all, more motivated than ever.
"You know, maybe everything was a little rough when I was younger. But I'm super-fortunate right now. I could be lazy, wake up each day, blaze weed and sit around, but I want to work, because I don't want this to ever end."