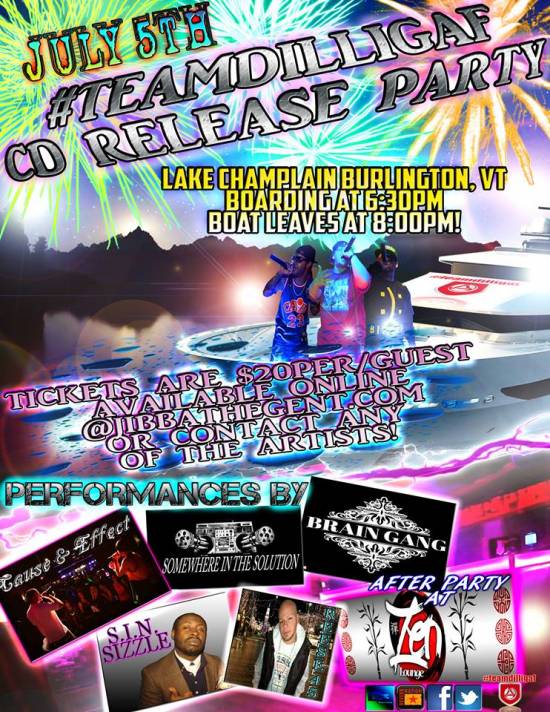 There's a lot to explain here, and I won't pretend to fully understand it. I do
hugely approve
, though. It is no surprise to see SIN SIZZLE and Jibba The Gent involved -- they've both been working smart & hustling hard in their respective lanes for years now. This appears to be a WWF-style crossover mega-event uniting the Vermont and New Hampshire rap scenes for some debauchery out on Lake Champlain. In other words, this appears to be
awesome
.
Here's their
official promo copy
, since there's too many moving parts for me to do this justice:
#TEAMDILLIGAF is set to release their newest album Change The World. Join us July 5th at 1 King St Burlington, Vt to kick off on the party ferry. LIVE back to back performances by artists: Cause And Effect, Somewhere In The Solution, Brain Gang, S.I.N. Sizzle, Reese45 and #TeamDilligaf!
Boarding starts at 6:30 and boat leaves at 8:00 SHARP so get there EARLY. Boat gets back at 11:00 for the after party at Zen Lounge! (165 Church St Burlington, VT) Buy tickets online at jibbathegent.com or contact any of the artist directly. $20.00 Per Person.
More info about TEAM DILLIGAF
on The Facebooks
.