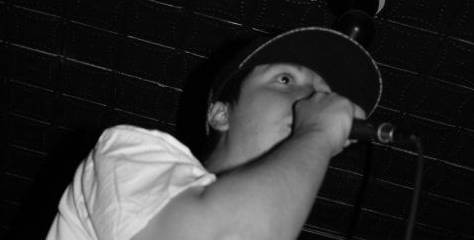 For folks who need an introduction, start here:
Thirtyseven: What's been keeping you busy in 2013?
MC Dialect:
For me personally, over the last year I've been focusing on music more than ever. I've been doing it for close to ten years, but my productivity tends to fluctuate quite a bit. The last twelve months have been by far my most productive over the last decade. I am currently working on a few different projects. Mainly
Somewhere in the Solution
. Zach (Anthem) and I have been making music together as Somewhere in the Solution since 2004, but we haven't released a record since
Six Years of Secrets
in June of 2009, so we have a LOT of new material we've been working on. Zach is a madman when it comes to beats, and you'll see exactly what I mean when the record comes out. We've also been doing a lot of work for the album with one of my best friends,
Es-K
, who is also BONKERS when it comes to beats. We recently did a track produced by an awesome young beat maker from Montpelier who goes by the name
LOUPO
... Keep on the look out for him... He's dope as fuck.. On top of that, we're finishing up a track with, and produced by Face One.
I myself, am working on a solo record produced by Es-K, a track with
Learic of The Aztext
which is also produced by Es-K, as well as a song with a producer from the San Francisco Bay area, Dope Dee. I also have a track with Es-K that will be released on vinyl for his record Serenity, which I am SUPER pumped about. The record will also feature AG (Of D.I.T.C.), General Steele (Of Smif-N-Wessun), M-Dot, and Fish Grease, along with others.
So to say the least, 2013 is keeping me VERY busy.
Thirtyseven: What has your experience been taking the Somewhere in the Solution show on the road through VT and New England?
MC Dialect:
When we're doing a show, that's when we're in our element. Recording songs and putting out material is great, but the live show is where we really show people what exactly Somewhere in the Solution is. Regardless of how many people are there, how big the stage is, where it's located...we go all out. It's hard not to when you've put so much love into the music. It's almost like it's out of our control. Once the first beat drops...it's on...hang on for the ride.
We've played pretty much every area in Vermont and it's really interesting to me to see how much hip hop there really is in this little state. There's dudes coming out of the woodworks. There is some real deal shit all over the state. We just have to help each other out to give everyone some exposure. We're all in this together. Let's support each other and grow with one another. I feel like for the most part, everyone does a pretty good job of that.
Thirtyseven: What are your favorite Burlington venues?
MC Dialect:
Favorite Burlington venues... Hmm... Well to be honest,
Manhattan Pizza & Pub
is our home turf. It's our clubhouse. It's our home away from home. For us it's the place where, no matter what night of the week, there's homies in there. On both sides of the bar. (Cue the Cheers theme song). When we first moved to Burlington, we started out doing the open mic nights there, hosted by
Andy Lugo
. From there it just kind of developed into our spot. We've been doing shows there for years now and we ALWAYS have a blast. We've also had some really fun shows at
Metronome
,
The Monkey House
in Winooski, and as of recently, the
Jenke Arts
studio on Church Street.
Thirtyseven: What local releases & projects are you personally looking forward to?
MC Dialect:
I mean, I want to hear everyones music. The scene in Burlington is moving in a really positive direction and I'm glad to be a part of that movement. There's a lot of great stuff that's out, and that's coming out. There's a lot of great new music in general, not just hip hop, coming out of the Jenke Arts Collective that I'm excited about. Can't wait to hear more stuff from Set Up City. REALLY can't wait to hear the new Bless the Child record. Love those dudes. Also hoping there will be some new Brutally Honest coming out in the near future. And of course.. the new Somewhere in the Solution record..
If I had to choose, what I'm looking forward to most is Es-k's Serenity record. It's a dedication to one of his best friends who left the world way too soon. It's going to be a beautiful masterpiece.